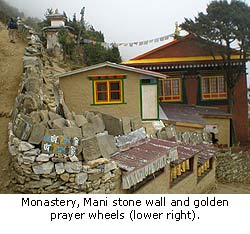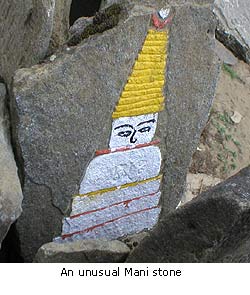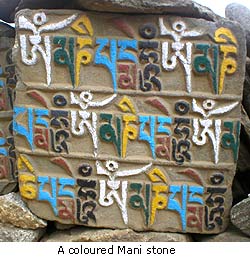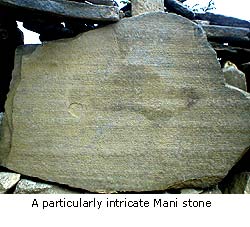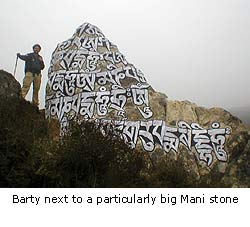 This morning we had fog and rain, in fact it rained all night, a sort of very English kind of light rain; it's more like the Lake District or Snowdonia than the Himalayas. Some Americans came by this morning on a trek, generally you are 3 or 4 days in from Lukla by the time you get here, they remarked on the 'exciting' flight they had into Lukla on account of the cloudy weather, this was confirmed by their Sherpa guide. They said they have yet to actually see any mountains. We could point at Thamserku 'up there somewhere' which is a 6000m mountain more or less directly off the end of the airstrip on the the other side of the valley, forecasts suggest it may be several days before we, or they, will be able to see it.....

You may recall Barty and I went down to Namche Bazaar the day before yesterday. There is a small monastery there entirely surrounded by a wall of Mani stones and prayer wheels. Sherpas are Bhuddists, they view life as an endless cycle of rebirth into a World of suffering, and they can be reborn as any kind of living creature. What they will be reincarnated as next depends on how much 'sonam' they have accumulated in this life, by carrying out good deeds they gain sonam, but a sin is much more powerful than a few good deeds so they have to work at it the whole time. Repeating prayers, or 'mantras' are also a good way to gain sonam, the most common mantra is 'Om Mani Padme Hum' which means 'hail to the jewel in the lotus', the jewel being the Buddha. The more times you repeat these prayers the better, so Bhuddists in this area have developed many ingenious labour saving methods of doing this. Prayer wheels are a sort of drum on end, filled with a long paper roll written with mantras. Spin the prayer wheel and lots of mantras are repeated at once. Prayer flags printed with mantras flutter in the wind infusing the air with prayers to travel the world. Mantras are also carved onto mani stones, this benefits both the mason and the person who commissioned the work. Mani stones can be quite small, the size of a tea tray, or huge rocks 30 ft or more tall, and the carving is sometimes coloured in. Practically all the exposed rocks between Namche and Syangboche have some sort of carving on them. The Mani wall around the monastery at Namche is made of thousands of Mani stones, the work that has gone into this over the years is quite astounding.

Back to the weather. The good people at AdventureWeather.com tell us that the Monsoon is 5-6 days early this year and has started to move north. This week there is a typical pre/early monsoon depression over northern Bay of Bengal. Eastern Himalayas and Everest will not be hit by the high winds, but will see increased precipitation mainly at lower altitudes. This is what we have got at the moment. They say it will be better weather higher up at levels above 7500m and the jetstream is still over Tibet to the North, but this is no good to us if we are permanently in a fog.

So when will the Monsoon hit Everest? They say normally around June 10, so if it is 6 days early then this should be June 4. We are due to ship out of here by 26 or 27th May so we shouldn't see the actual monsoon. It looks bad for the next few days but the forecast suggests we may have one possible chance just before we have to leave.....