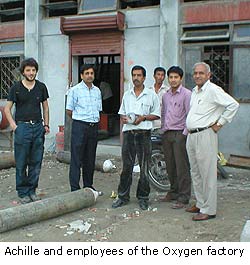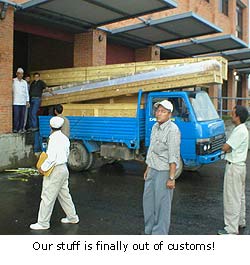 Finally after spending the whole day with Customs at the airport our stuff is out! It was rather precariously transported to our agent - Thamskeru - HQ.

We are planning on moving everything to Lukla in two or three days time and being as tomorrow is Saturday, the only day off in Nepal, we spent the day today filling our oxygen bottles.

There is only one place in Kathmandu you can do this, the Shankar Oxygen Gas (Pvt) Ltd. It took us a while to find their place as it was heavily disguised as a derelict building, but once inside it is quite a modern plant, they will even supply liquid oxygen if you want... I tested the oxygen quality with our Paramina supplied gizmo, it showed 99.4% purity - good enough. The only problem was the pressure - our super lightweight 10 litre fibre wound aluminium bottles supplied by IPT are good for 220 bar, a normal 47 litre oxygen cylinder as supplied in UK is around 230 bar, in other words with a little bit of pumping it is possible to fill our four lightweight bottles from two big bottles. Not so in Kathmandu, it only comes at 150 bar. This meant it took four 47 litre bottles to fill our four 10 litre bottles to around 200 bar - and a lot of pumping; Achille, one of the Italian team was the hero, he, I and a couple of Nepalis spent five hours pumping our bottles to 200 bar, although it would have been nice to see 220 bar, the pump can only do up to about 80 bar difference from the source and 200 was the max we could realistically achieve. If we did not have our Paramina super-pump we would have really been in trouble, I'm not sure of the exact calculation (Boyles law) but in my experience the difference between 150 and 200 bar is about one hour of use - in other words very critical.

We also took with us five 47 liter / 55 Kg bottles to take to Lukla. Assuming they don't leak away then hopefully this will give us enough for three or four more refills (on the basis the bottles to be filled won't be completely empty). It was one thing to do all that pumping at a mere 4000 ft in Kathmandu, it will be another thing entirely at 9,000 ft in Lukla...

Tomorrow I will extract the trike from its huge crate and put it back on its wheels ready for transportation to Lukla in the helicopter. Why not fly it? Well, the glider wings and all our spares and kit are going in a helicopter with a capacity of four tonnes or so - there is plenty of space - so why take the risk? This expedition is to fly over Everest, not crash on the way there.