Sunday 4th March 2007, 11 PM: Brian Milton phones to say the sighted pilot of this expedition has dropped out with less than 12 hours to go before departure.
Monday 5th March: Brian and I visit the team at Biggin Hill.
Tuesday 6th March, 8:00 AM: We have the go-ahead for an emergency solution; Brian is to depart with Miles tomorrow and Richard Meredith-Hardy is to take over in Cyprus for the rest of the flight.
Wednesday 7th March, 10 AM: Brian and Miles depart for Le Touquet on the first leg of the journey.
RESULT: To great international acclaim, Richard Meredith-Hardy and Miles Hilton-Barber arrived at Sydney Bankstown airport at 8:30am on 30 April 2007. You can find the full story of the trials and tribulations of the 56 day, 21,392 Km flight across 22 countries here on this website or on Miles Hilton-Barber's blog.


Miles Hilton-Barber was the first blind pilot to fly the English Channel in a microlight a couple of years ago. This 13,000 mile 45-day flight is dedicated to raising at least £1 million towards restoration of sight to blind people in the developing world today through the Standard Chartered Bank's inspired Seeing Is Believing programme. Miles has been blind for about twenty years but has not let that stop him from challenging barriers. He is an exceptional storyteller and corporate motivational speaker He uses his experiences as an adventurer to motivate and to inspire others to achieve their potential. Miles lives near Derby in England.

Brian Milton was the second person to fly to Australia in a microlight back in the 1980's. In 1998 he become the first person to fly a microlight around the world, a feat that earned him the Britannia Trophy, one of the world's greatest aviation awards. Brian combines a career as a TV presenter and financial journalist with a series of incredible airborne adventures around the world. Brian lives in London.

Richard Meredith-Hardy Was the first person to fly a microlight from London to Capetown in 1985/6. In 2004 he flew over Mt Everest as part of an expedition to tow the Italian pilot Angelo d'Arrigo in a hang glider to the summit. He towed Angelo over Mt Aconcagua in Argentina, the highest mountain outside the Himalayas in 2005. He has been World and European microlight champion and has been awarded the FAI Gold Air Medal, one of FAI's two highest awards. He lives in England 50 Km north of London.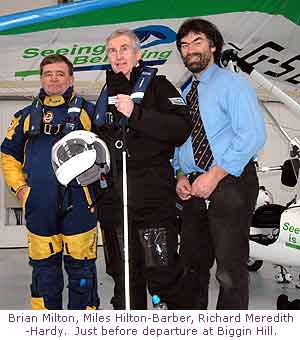 PLANNED TIMETABLE
7 March 2007 Departure, Biggin Hill, UK.

10 March Pafos, Cyprus.

12 March Amman, Jordan.

20 March Muscat, Oman.

29 March Delhi, India.

5 April Bangkok, Thailand.

10 April Singapore.

20 April Darwin, Australia.

26 April Sydney, Australia.

Beginning of May 2007 Return to Europe.

Of course the reality wasn't exactly as planned, but not far off! See the flight log.



The aircraft is a P & M Quik GT 450. This is a classical 'weightshift' control machine and is the best of its kind available today. It has been fitted with an extended range fuel tank, but is otherwise factory-standard.

Miles is able to fly the aircraft using a system developed by Software Express who had already developed an award-winning speech-output programme for blind people with no previous experience to access computers. The Guide Flight system, links all the main flight instruments via speech into the pilot's headphones. Miles flies with a 5 inch by 3 inch switch box attached to the leg of his flying suit with velcro that is connected to his dedicated flight instruments, quite separate from the microlights own flight instruments. He can access up to 32 different types of flight information at any time, including his air speed, ground speed, compass bearing, aircraft heading, track over ground, distance to next way-point, wind drift, altimeter pressure settings and altitude enabling him, in good conditions, to fly and navigate quite independently of the sighted pilot.