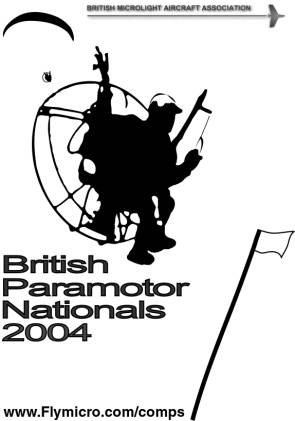 @ Downham Market, Norfolk
29th of May to the 1st of June

Important Notice to all competitors
Are you ready?

The aim of this communication is to help all competitors through what to expect and to help them be well equipped and prepared. At the end is a checklist for competitors of vital things that you must have, as well as some useful addition things if you have the room in your car!


When you arrive,
you will be expected to fill in the registration forms and then you will be issued with the following by the organisation.
Competition Number – Including material and instructions on how and where to affix your number to your wing, your helmet, and once your motor has been inspected and photographed you will have one marked on your engine by the marshal concerned.

GPS competition loggers (MLRs) – It has only been a year since these loggers have been introduced to the competition scene, as the primary source of flight data. They are absolutely vital to record your task data and are specially designed for the purpose. They are also very expensive and you will be asked to sign for them when they are issued to you. (If you lose it, it will cost you 250 euros), They come with a standard carry case and need to be mounted preferably without pointing at the ground, there will be an information leaflet and briefing when you take charge of it. (There is a limit on how many are available so they will be issued in order of registration. So if you have not already signed up you may miss out completely).

Fuel – It is vital that you have enough for at least 1 day of tasks in hand at any one time. With up to a possible 3 tasks being run a day this would be around 20 litres of fuel. In addition you need more storage, so that if a limited fuel task is run and you are required to empty your machine you have somewhere to put the excess fuel, other than in the ground. For safety I recommend that you use proper metal Jerry cans, they are far less problematical and safer than plastic.
Notes:- these days jerry cans are readily available from most hardware or army surplus stores. A good funnel is also required preferably with a fuel filter, which obviously reduces the risk of fuel contamination. So often competitors turn up ill equipped in this area. You should also bring along a car fire extinguisher.
Maps – The map we are going to use is 1:50 000 Ordnance Survey Map – Landranger series number 143, "Ely & Wisbech, Downham Market ". They will be available to buy from the organisation, upon arrival (price £5.99) but you might like to get one to study it in advance. It is important that you have a decent system for reading your map in the air. So many pilots turn up un-prepared in this respect.
Notes - You need the largest map case you get your hands on, this is your aerial office. Alternatively you could make your own using a picture framing system (hardboard and Perspex with edge clips). You need your map in front of you with your compass, a good stopwatch and marker pen at all times. I recommend that you attach the map holder from two corners, to just underneath the chest strap then a third attachment to one of your legs (to prevent it blowing up in your face). I suggest you use some sticky back Velcro to hold your instruments in place, backed up with string.
It is also advisable to have a small roll of clear fablon available to cover your map, a ruler, protractor, highlighters, sellotape, pens and pencils, including fine nib permanent markers in various colours and a clip board (I will be bringing a limited number of map cases along with me - price £35).
Insurance – You will need to provide the organisation with proof of 3rd party insurance, before you may enter the competition.
Notes – If you don't currently have insurance. Providing you have a recognised rating i.e. BMAA or BHPA it will be possible for you to get insured though a French company Verspieren upon your arrival, there will be forms available, however this is best done though the net before your arrival. (www.aviation.verspieren.com/ulm - price 42 euros for 3rd party and with a bolt on for individual accident/assistance for 46 euros)
Ratings –
A full PPG rating is

not a mandatory requirement at a nation competition, but 3rd party insurance is. However in the absence of a BMAA or BHPA rating, we do much prefer that competitors are at least up to

a recognised skill level and it will be down to the discretion of the director (M.C-J).

I

suggest you bring along a logbook at least if you are in this situation.

Water – Water is a problem at this site. There is only one standpipe and it is ½ a mile away. We suggest that you bring with you some water containers as well as plenty of drinking water bottles.

Backup for task verification – the best backup just in case your MLR (official GPS Supplied) lets you down, is another GPS. This you can carry sealed in a back plastic bag by one of the comp marshals before departure on your tasks.

Notes - Make sure your backup GPS is mounted where it will work i.e. not pointing down at the ground.

Other useful equipment to bring – It is advisable to have a variometer and altimeter, bring plenty of quality batteries AA type Duracell or other – there will be a limited number available through the organisation but it will be limited, so bring your own.


Safety – Bring with you a good safe attitude, particularly with regard to flying with others, keep a sharp lookout, and anticipate the movement of others you are sharing the air space with. And most importantly around the engines and propellers when starting engines, it is a fact more than 70% of paramotor related incidences happens at this moment. Clear prop!

Checklist for competitors

You must have –

1) Evidence of 3rd party, Paramotor specific insurance.

2) Flying helmet.

You may also need –

1) Between 12 and 20 x AA batteries for the MLR flight  recorders.

2) Extra fuel cans and more fuel than you think you need

3) Water containers

4) Another back up GPS or as a minimum a film camera.

5) Map holder/case + bits and bobs

6) Reasonable footwear

7) Plenty of drinking water and high-energy snacks.

8) Emergency parachute

9) A copy of the rules from website

10) A current Air Map covering the area

11) Compass, altimeter and other such useful instruments

12) Paramotor/powered harness and wing – Joke!

All the best let's hope for good weather and plenty of fun, see you there.
Mike Campbell-Jones - Competition director + Team