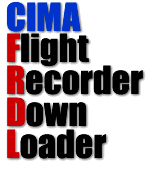 Downloads






Buy loggers


FRDL Help
























GeoChron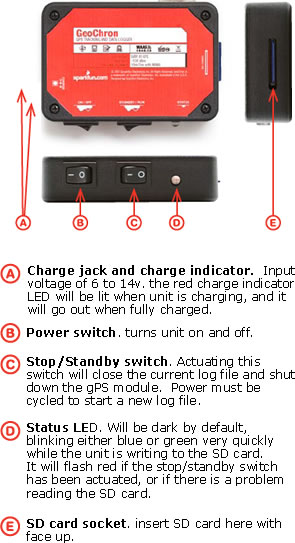 The geoChron will accept SD cards of up to 2Gb capacity. A 2Gb card will easily contain over 1000 hours of logging at 1 second intervals!
Battery
The geoCron has a 1000 mAh liPo battery which gives an advertised continuous run time of 7.4 hours.

When plugged into a voltage source (6v to 14v), the unit will operate normally and the battery will charge at a maximum of 280 ma. While the unit is charging the red charge indicator LED will be on, and will go off when charge is completed.

The charging characteristic curve of a liPo battery is such that it slowly tapers off over time, and so the charge time can be longer than one might expect as the battery slowly tops-up. but for the most part, the battery is essentially charged after about 4 hours, whether the indicator LED goes off or not.
Setup
With a fully charged battery, insert a blank SD card (formatted in FAT 16) into the SD slot and turn the unit on. Make sure that the Stop/Standby switch is in the off position - opposite to that of the power switch.

The LED's will blink red-blue-green very quickly 5 times, and then will periodically blink blue or green indicating that it is logging to the card.

If it blinks red repeatedly, shut the unit off and reformat the SD card on a computer (FAT 16).
Operation
FRDL will write the configuration file GLOGCON.TXT to the SD card with the correct settings for recording flights in Microlight and Paramotor competitions; notably that it is recording the NMEA RMC, GGA and GSA lines at 1 second fix intervals in mode 0.
Removing the SD card
Power off the geoChron, or flip the stop/standby switch to stop. The geoChron will close the log file and flash the red LED indicating that it is stopped. You can now remove the SD card to retrieve the log files.
| | |
| --- | --- |
| WARNING Do NOT remove the SD card while the geoChron is still logging; this will result in a corrupted log file which will be useless! | |