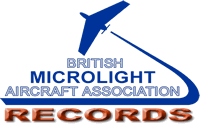 Home
Latest news
How to do records
About maps
Record claim form
Official Observers
Official Observers guide
Observer application form
Sporting licences
Equipment hire
BMAA home page
Records set by pilots from Belgium (BEL)
This is the definitive list of UK records but the FAI website is the authority for World records.
Filter: All Current World Superseded World Current UK Superseded UK
Current World record
AL1E Altitude
Performance
2366m (7762 Ft)
Date
27 Feb 2012
Pilot
Jean Luc Soullier (BEL)
Aircraft
Colomban MC 30 Luciole
Engine
Electravia GMPE 102
Location
Sisteron (France)
Min. 2437m (7995 Ft) to beat this record.
World Records (BEL)

:
Current 8 Superseded 3
World records courtesy FAI. See the FAI website for the definitive list of World records, this listing last checked 27 Mar 2023.

This list does not include World record claims pending ratification.