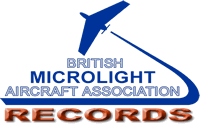 Home
Latest news
How to do records
About maps
Record claim form
Official Observers
Official Observers guide
Observer application form
Sporting licences
Equipment hire
BMAA home page
FAI Minimum speed calculator
FAI rules, Section 10, 1.3.1 state that a microlight or paramotor is: A one or two seat powered aircraft whose minimum speed at Maximum Take Off Weight (MTOW) is less than 65 km/h....
FAI rules, Section 10, Annex 1 states: The measured speed will be corrected for air density (15°C, 1013.2 hP, AMSL).

Use this calculator to normalize flight test results to ISA conditions: Enter the leg distance, recorded times over two opposite legs, pressure & temperature at test altitude and click Calculate to get a speed corrected to ISA standard conditions.


Notes
The result is calculated using the following formula:
Speed in Km/h normalized
to ISA conditions =
Where
D0 = Leg length in metres
T1 = Actual leg time in seconds
P1 = Ambient pressure at test altitude in Mb
t1 = Ambient temperature at test altitude in degrees Celsius

FAI Section 10, Annex 1 says:
The aircraft may be required to demonstrate the minimum level speed at MTOW by a flight demonstration over a 500 m course. The aircraft must be flown level at a safe height in opposite directions. The speed will be measured during each run by the use of GNSS and the average of the two speeds shall be calculated. The component of the wind perpendicular to the course must not exceed 10 km/h. The measured speed will be corrected for air density (15°C, 1013.2 hP, AMSL)
Note: Pilots wishing to attempt Records or compete in championships should obtain a minimum speed declaration for their aircraft.

In this calculator all calculations are rounded down to two decimal places.