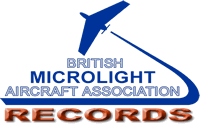 Home
Latest news
How to do records
About maps
Record claim form
Official Observers
Official Observers guide
Observer application form
Sporting licences
Equipment hire
BMAA home page
Wind chill calculator
The wind chill index represents how the temperature would feel on your skin if the wind were reduced to a walking pace of 4.8 km/h. The wind chill is expressed in temperature-like units, but because it is not the actual air temperature, it is given without the degree sign. For example, if the outside temperature is -10� C and the wind chill is -20, it means that your face will feel as cold as it would on a calm day when the temperature is -20�C.

When flying an open cockpit microlight or paramotor, the occupants are exposed to very significant wind chill effects. You can use this calculator to find out just how much.
Notes
The way this is calculated is sourced from Transport Canada and is the result of an international collaboration based on research of how the human body loses heat in the cold and wind.

Because wind-chill is a 'feels-like' effect rather than anything directly measurable it is the convention to express a wind chill index temperature in the same scale as the measured temperature (in this case Celcius) but without a degree sign °.

With increased wind chill, frostbite becomes an increasing threat. Wet skin or wet clothing in direct contact with the skin significantly increases the effective wind chill.

The result is calculated using the following formula:
twC = 13.12 + 0.6215 ta - 11.37 v0.16 + 0.3965 ta v0.16
where
twC = effective "wind" temperature
ta = air temperature (oC)
v = wind velocity (km/h)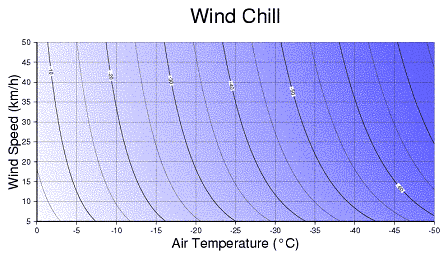 In this calculator all calculations are rounded down to one decimal place.