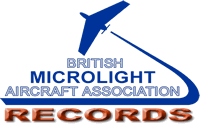 Home
Latest news
How to do records
About maps
Record claim form
Official Observers
Official Observers guide
Observer application form
Sporting licences
Equipment hire
BMAA home page
Records set by David Cook (GBR)
This is the definitive list of UK records but the FAI website is the authority for World records.
Filter: All Current World Superseded World Current UK Superseded UK
Current UK record


AL1T Speed over a straight course
Performance
126.3 Km/h (69 Kt)
Date
4 Aug 1983
Pilot
David Cook (GBR)
Aircraft
CFM Shadow 440
Location
Cove Hithe (UK)
This record was achieved "Over a straight course of 3 Km" which is a discontinued distance.
Min. 127.57 Km/h (69 Kt) to beat this record.
| | |
| --- | --- |
| World Records: | Current 0 Superseded 0 |
| UK Records: | Current 1 Superseded 0 |
World records courtesy FAI. See the FAI website for the definitive list of World records, this listing last checked 27 Mar 2023.

This list does not include World record claims pending ratification.