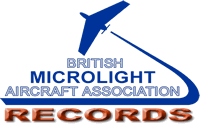 Home
Latest news
How to do records
About maps
Record claim form
Official Observers
Official Observers guide
Observer application form
Sporting licences
Equipment hire
BMAA home page
Records set with aircraft made by Advance
This is the definitive list of UK records but the FAI website is the authority for World records.
Filter: All Current World Superseded World Current UK Superseded UK
Superseded UK record


PF1Tm Altitude
Performance
5580m (18305 Ft)
Date
27 Sep 2014
Pilot
Giles Fowler (GBR)
Aircraft
Bailey Matrix / Advance Epsilon 7
Engine
Bailey Hornet
Location
Chatteris, Cambridgeshire
Observer
Paul Bailey, Gordon Blackley, Tom Garner
Superseded UK record


PF2T Altitude
Performance
1334m (4376 Ft)
Date
18 Mar 2000
Pilot
Kevin Bates (GBR)
Co-pilot
Jane Brooks
Aircraft
DK Whisper Plus / Advance Bi-Beta
Engine
Solo 210
Location
Four Stone, Kinnerton, Nr New Radnor, Powys (UK)
Ratified by FAI as as World record on 1 Nov 2000
| | |
| --- | --- |
| World Records: | Current 3 Superseded 9 |
| UK Records: | Current 1 Superseded 5 |
World records courtesy FAI. See the FAI website for the definitive list of World records, this listing last checked 27 Mar 2023.

This list does not include World record claims pending ratification.